Liechtenstein Post has received two new mSorter OCR stations to speed up the mail handling in their delivery hubs.
"We have been very happy with our mSorter OCR 200 LF stations in Schaan and wanted to expand the fleet also to our new delivery hub in Gamprin-Bendern. Cooperation with Mailroom Solutions has been agile and smooth – we can rely on their competence also regarding the maintenance services" says Mr Martin Hemmerle, the Head of Sorting.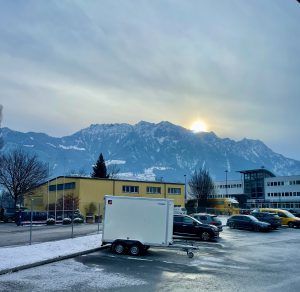 Collaboration was officially started in 2019 with a pilot project. According to Mr Hemmerle, learning a new sorting method required a bit of work, but was worth it. After implementing the mSorter OCR stations, Liechtenstein Post has been able to handle most of ex-manual sorting consignments with this semi-automated system: "Mailroom Solutions has been able to implement various adjustments, based on our specific needs. In addition, the possibilities of statistical evaluation and investigation are also very interesting."
The Mailroom Solutions Team wishes happy sorting to the staff of Liechtenstein Post and wants to thank you for warm hospitality during the installation trip to Liechtenstein!
FACT BOX
"Hoi" is the most common salutation in Liechtenstein 👋🏼

The Principality of Liechtenstein is located in the Alps in Central Europe between Switzerland and Austria. The country's area is 160.5 square kilometers, and it is the sixth smallest independent state in the world.

Liechtensteinische Post AG is the

postal service

of the

Principality of Liechtenstein

since 2000. Prior to that, postal services of the principality were managed by

Swiss Post

. The organization is relatively small, but internationally active in many areas.

There are two independent countries in the world that are double-landlocked. Liechtenstein is one for sure, but do you know the other one?

In Liechtenstein, people call each other by first names regardless of their social status or wealth. Exception to this general rule is the monarchy, where the official titles of "Durchlaucht" (Serene Highness) or "Hoheit" (Your Highness) are important.