mSorter series offers highly efficient solutions for manual handling of rest mail and flats. The high usability user interface, ergonomic design, and intuitive sort-to-light bring the manual sorting process to a new level. Memory-based operations are removed and the utilization and optimization of sort plans become possible.
Registered mail
mSorters collect the full trace and enable efficient tracking of mail pieces. The recipient and the delivery address are captured automatically by the state of the art OCR and the shipment data is stored automatically.
Most of the integrations can be done using the standard API's of the Mailroom Manager server environment, but the architecture also enables quick and cost-effective custom integration to any back end system.
Rest mail & flats
mSorters were originally designed for manual handling of rest mail and flats. The computer-assisted manual sorting is an efficient way to handle the non-machinable flow in a mail center. The scalability and configurability enable the easy adaptation to the existing processes and bring significant savings quickly.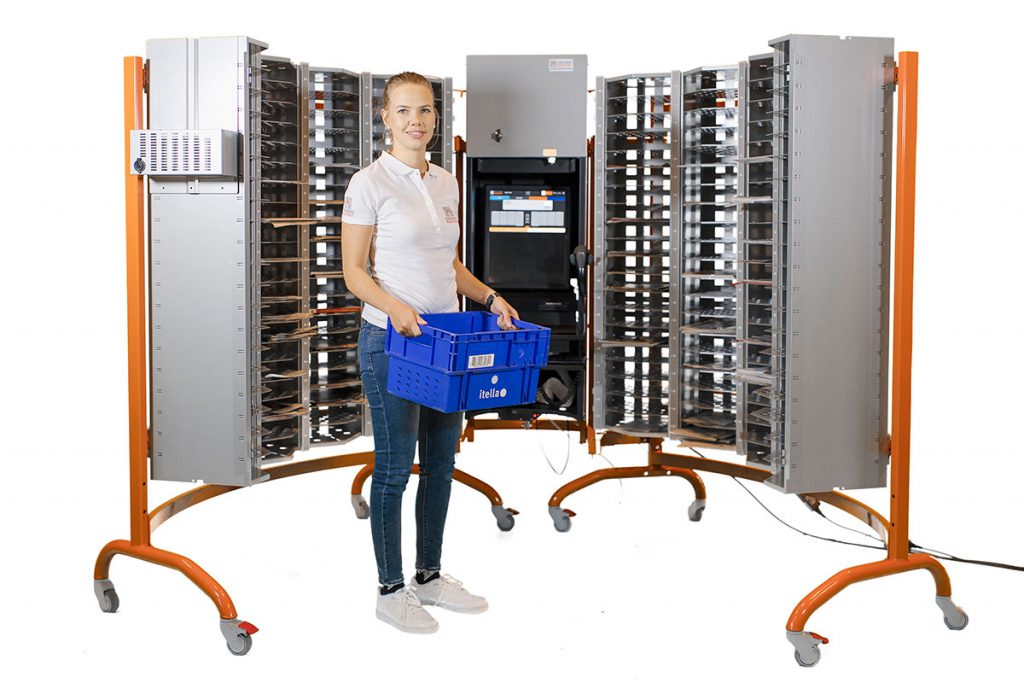 Cases
In-house mail registration
The Customer
Operates in the pharmaceutical industry

Has over 230 buildings at the main campus

Has over 12 000 employees

Receives over 15 000 shipments daily, most mail pieces delivered to mailbox frames in floors

Parcels are delivered to recipients

Pallets, thermal & chemical shipments, and registered mail as well

Employees are allowed to send shipments using a carrier as needed
The Challenge
Over 15% of mail went to a wrong recipient

Over 30% of mail was not received on time.

Bad data quality strained staff and caused a large amount of manual work

The work process was heavily based on staff experience and sorting was memory-based

An outdated and unstable software system that could not be updated

Large overdue invoices in outbound shipments due to manually entered information (e.g. missing cost center info)

Carrier tracking data was lost after three months
The Solution
Mailroom Solutions was integrated seamlessly with customer information systems. 

Solution consists of

Identification/registration stations 

Address database 

Easy-to-use web and mobile-based tracking tools. 

All parts of the solution fulfill the strict pharmaceutical requirements. 

Employees register outbound shipments and print documents on their desks using Mailroom Manager Sender functionalities
The Results
Mail registration is over  40% faster 

80% reduction in delivery errors 

Over 98% of mail received on time

Over 90% of all issues have been solved during the same business day

Over 98% reduction in customer complaints 

100% shipment carrier outbound invoicing paid on-time

Motivated employees and low-stress levels because of better usability and support in their work. 
Products