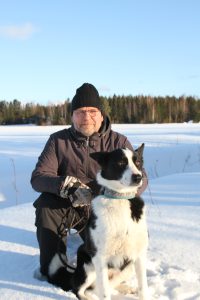 Hello Jari, please introduce yourself!  "I'm Jari Kinnari from Laihia, a mid-sized municipality located in the Ostrobothnia region. My family consists of a spouse, 3 kids and 3 Karelian Bear Dogs."
How long have you been working in Mailroom? "Almost 7,5 years now: originally I joined the company to manage the mechanical production and the supplier relationships, two years ago I started to manage the software production side as well.
And what's the best in your work? "The days are not copies to each other – it's also motivating when getting to achieve goals that eventually benefit also the customer."
Is there any specific customer project that you remember exceptionally well and if yes, why? "Lithuanian project in 2020, the implementation went very well without unnecessary surprises. Thanks for this goes to the customer – Lietuvos paštas – who had spent a lot of time defining the processes."
How would you describe a dream project? "In a dream project, there would be enough time for defining the processes: Definition would cover how the process should work in the future, not only how it works today. And if I could wish for more, the definition would also take into account the existing processes of the supplier's software. By doing this, the project implementation would be more cost-effective and the customer's gains would therefore be greater."
Hey, this is something we all would like to know: What do you prefer to do in your free time? "I hunt big game with my dogs. We also compete in elk hunting training related competitions and I act as a judge & chief judge in those same competitions. In addition, I breed Karelian bear dogs on a small scale for hunting.
And how many cups of coffee per day? "I used to drink probably 2 liters a day, but nowadays only occasionally a few cups a month."
A vice you can publicly confess? "That would definitely be smoking. "
What's the best thing in Finland? "Four distinct seasons."
Thank you Jari!
In our next newsletter issue in August, we introduce Tapio, our Senior system specialist 👨🏻‍💻