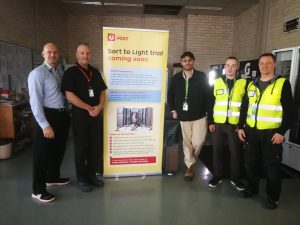 We were down in Australia recently and were really pleased to see this fantastic info Rollup that the Improvement Manager Michael Thadani from Australia Post created to inform the employees about the coming change.
The key points here are:
– Inform the employees about the upcoming changes
– List the benefits (positive aspects of the change)
– Make it easy to ask for more information and to get involved
Well done Michael Thadani (right side of rollup) and many thanks to Robinson Wayne (on left side of rollup) for facilitating everything. Also on the right Jouni Kyllönen, from Mailroom Solutions and on the left Juuso Yli-Kesäniemi & Thomas Lindqvist.
Here's a close up of the roll-up